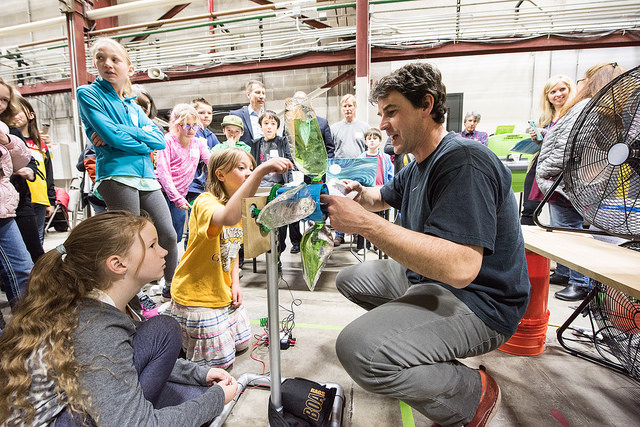 For the last 20 years KidWind has been focused on helping educators and students explore renewable energy. I wish I had kept track of all the teachers and students our team has trained and impacted over those years. But let's just say it's a pretty big number.
The idea of the KidWind Project started in 2003 when I was a sixth grade science teacher in California. Unhappy with the poor quality of products and curricula available for teaching wind energy science, I set out to develop some new materials. With an initial investment of $1,000 and a fellowship at the Wright Center for Science Education at Tufts University, I developed a new approach to educating the world about wind energy.
KidWind and our team of amazing instructors focus on three major areas - teacher training, curricula and materials, and the KidWind Challenge.
Training
In the summer of 2004, we held our first educator workshops in ME, VT, MA & NY. They were a hit and we were off and running. The demand for training and outreach quickly overwhelmed our capacity and we realized that we needed to build a much larger team of trainers. In the summer of 2008, we held our first master trainers workshop called WindSenators. The goal of WindSenators was to train two educators from every state to help us teach the world about Wind. As of 2019, over 480 educators have attended this training and are actively teaching thousands of students and other educators each year.
Curriculum & Lessons
With a grant from the Department of Energy, we developed 5 lessons around wind energy that to this day that we still think are awesome. See them here. In 2011, we released our flagship curriculum WindWise. This was produced with a grant from NYSERDA and developed in partnership with Pandion (now Normandeau Associates). This has been updated with small grants over National Renewable Energy Lab and other partners over the years.
Kits & Materials
In the fall of 2004, the first kits were shipped from the headquarters of Michael's basement in Arlington, MA. From there things just got bigger and bigger. By 2012, KidWind had a massive warehouse, 25 employees and we were shipping thousands of classroom kits each year.
In 2014, KidWind partnered with Vernier Software and Technology and they graciously took over the production and delivery of KidWind products. We continue to work with Vernier to develop robust educational kits, probes, and materials to help students engage with renewable energy and the related STEM concepts. Vernier is the largest financial supporter of the KidWind Challenge and donate 5% of every dollar they make on KidWind products to support the Challenge and related projects.
KidWind Challenge
The very first KidWind Challenge was held in a science classroom in Monterey, CA in 2003.
The First KidWind Challenge in 2003
Years later, with support from NYSERDA, we held our first official KidWind Challenge in Albany, NY, way back in 2009.
Since 2009, KidWind Challenge events have been successfully implemented in 30 states, with roughly 40,000 students competing in 300 events across the country.
Our 2021-2022 Challenge season had us back in person after a difficult few years:
23 KidWind Challenges in 15 states and Mexico!
37 Educator Training Events with over 500+ teachers trained
500+ Online Challenge Submissions
REcharge Labs
In 2015, KidWind launched a new project with Asia Ward called REcharge Labs. REcharge Labs was started to develop a new suite of resources that would allow all learners (K-College) to more creatively explore wind and solar power by blending the art and science around renewable energy.
REcharge Labs developed an amazing set of lessons and kits that helped students to construct houses, cars, fountains that were powered by the wind and sun. In 2019, REcharge Labs closed as Asia moved on to found an art focused conservancy and Michael refocused his efforts around the KidWind Challenge. All of the REcharge Labs lessons and materials are now owned by KidWind and can be found here.
Dedication
Without some important visionaries, the KidWind would never have become the success that it is today. These organizations and individuals went out on a limb and helped us start something great. We thank them for their passion, energy, and continued support.
Asia Ward, Co-Founder of Recharge Labs
Dick Michaud (formerly of the Department of Energy, Boston Office)
Joe Rand, formerly KidWind's #2
Larry Flowers (formerly of NREL Wind Technology Center)
Trudy Forsyth (formerly of NREL Wind Technology Center)
Original KidWind Challenge Team: Brad Weaver, Andy Lueth & Linda Elie
New York State Energy Research Development Authority (NYSERDA)
Wright Center for Science Education at Tufts University
Vernier Software & Technology
Harbec Plastics
Partners & Volunteers
We have an amazing national outreach team comprised of individuals, organizations, and institutions who practically work for free. They love this project and make the magic happen at our local and regional events. Without their hard work and dedication, none of this happens. I would like specifically call out some superstars!
Individuals
Andy Lueth
Angela Christine Stoltz
Casey Heiser
Colleen Fisk
Colleen McDaniel
Curtis Morgan
David Andrade
David Carter
David Yaff
Diane Painter
Elise DeGeorge
Fran Poodry
Gus Goodwin
Ian Baring Gould
James Brown
Jerry Bernardini
Kathy Jackson
Kerri MacKay
Meghan Phadke
Michael Phalen
Mike McNally
Mike Rinaldi
Parker Mullins
Peter Zack
Ray Alls
Ray Pitcher
Remy Pangle
Richard Anderson
Romie Tejeda Barron
Yvonne Cook
Tim Noonen
Organizations and Institutions
CEEWA
CREATE Program
Cradle of Aviation
Department of Energy - Collegiate Wind Competition and affiliated colleges
Department of Energy - Wind for Schools Program and affiliated state programs/universities
Flinn Scientific & WhiteB x Learning
Kansas Energy Program
KEH Marketing
National Society of Black Engineers
Renewable Energy Alaska Project
REpowering Schools
SpirtWind Kidz Ranch
Women of Renewable Industries and Sustainable Energy (WRISE)
Educators, Students, and Parents
None of this happens without all of the great educators and students willing to try something new and the parents that support them! Thanks for all your passion and vision!